Home School Liaison - George Muniz - ext 23412
Home School Liaison - Jose (Manny) Rios - ext 30277
PTO Meetings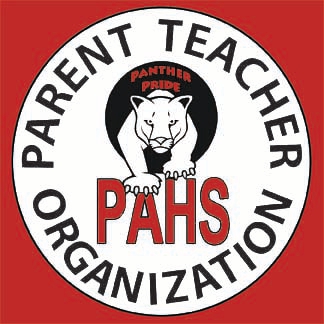 PTO Logo designed by students Brandie Jimenez and Kayla Leiton.
We're increasing the strength of our PAHS PTO, One Parent at a Time!
Parents: Can't make it to the scheduled PTO meetings? We want to hear from you!
The PTO has established both an email address and a voice mail phone number for use of the High School PTO Members. Both will be monitored by the Executive board. This is a GREAT step forward in making our PTO network stronger.
As always, we thank you for your support.
PAHS PANTHER PRIDE
...IT'S SPREADING!!
---
Below is the schedule for the P.T.O. meetings for the 2013-2014 school year. Meetings will be held at 6:00 p.m. in the high school library.
PTO Meeting Schedule
Monday, October 7, 2013
Monday, November 4, 2013
Monday, December 2, 2013
Monday, January 6, 2014
Monday, February 3, 2014
Monday, March 3, 2014
Monday, April 7, 2014
Monday, May 5, 2014
Monday, June 2, 2014
All meetings held in the Library on the second floor
at 6:00 pm.