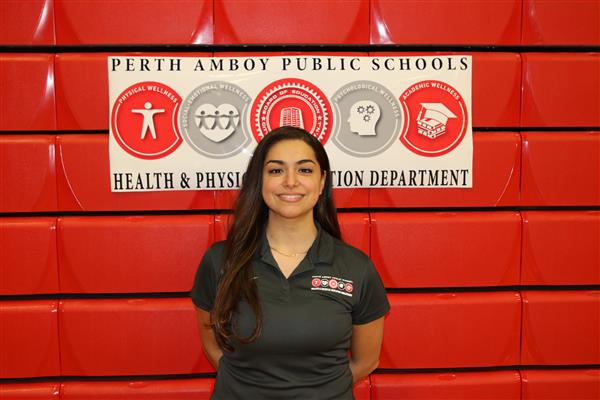 Phone:
Email:
Degrees and Certifications:
Ms.

Elyssa Vega

Hey there! My name is Ms.Vega. I'm a Physical Education and Health teacher and Samuel E. Shull School.

I'm so happy to be a part of the Perth Amboy community and help our students learn the importance physical, mental and social helath. We are all returning from challenging times and look forward to working together to guide our students navigate through this new adventure. If you need to reach me for any reason, you're welcome to email me at elysvega@paps.net

¡Hola! Mi nombre es Sra. Vega. Soy maestra de educación física y salud y de la escuela Samuel E. Shull.

Estoy muy feliz de ser parte de la comunidad de Perth Amboy y ayudar a nuestros estudiantes a aprender la importancia de la salud física, mental y social. Todos regresamos de tiempos desafiantes y esperamos trabajar juntos para guiar a nuestros estudiantes a navegar a través de esta nueva aventura. Si necesita comunicarse conmigo por cualquier motivo, puede enviarme un correo electrónico a elysvega@paps.net

ABC days

5th Grade Period 1 Section 137- ify37qu

5th Grade Period 2- N/A

6th Grade Period 5 Section 212- g2ifvek

6th Grade Period 6- N/A

7th Grade Section 226- x6qvfnq

8th Grade Section 236- h646utq

DEF days

5th grade Period 1- N/A

5Th Grade Period 2- N/A

6th Grade Period 5 Section 27- unkjtri

7th Grade Section 313- yhiij6s

8th Grade Section 312- kmsesoj

LLD Phys.Ed- qyjhcku
Top 5 Reasons Why Physical Education is As Important As Schoolwork

Students who play sports are better able to concentrate and maintain focus, which has a positive impact on their academic life. This can lead to improved attainment in all other academic subjects

Students get a lot of benefits from physical education classes. P.E. classes can help students to become more aware of the importance of a healthy lifestyle. The students can also retain a higher level of knowledge as a result of the overall health. This knowledge can help them to make wise decisions concerning their safety, health, and wellbeing.