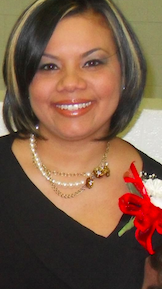 Phone:
Email:
Degrees and Certifications:
Mrs.

Alvarez

Hello and welcome to my page. My Name is Mrs. Alvarez and I teach 6th grade Math. I have been at the McGinnis School since the 2000-2001 school year. It is with great excitement that I write a brief bio about myself.

I have earned an Associate's degree in Liberal Arts-Psychology from Middlesex County College, Bachelor's degree of Arts in Psychology from Kean University and a Master's degree of Science in Education Leadership with a specialization in Leadership in Educational Administration from Capella University.

I have had the honor to work hand in hand on many projects and initiatives in our district such as the Include Grant, benchmark writing (Math), curriculum writing (Math & Science), pacing guide writing (Math & Science) and planning guide writing (Math & Science). I have also served in many school-wide committees. They are the School Leadership Committee, the Curriculum and Assessment Committee and the Family Night Committee. I have also served in district-wide committees such as the 4th-5th Grade Alignment Committee and the Diversity Committee. In addition, I served as the coordinator of the Summer Enrichment Program for McGinnis School in which I supervised teachers and oversaw the safety and educational process of about 200 students. Thereafter, I served as the coordinator for the Summer Math Camp at Samuel E. Shull Middle School in which I supervised the staff and about 70 students. Lastly, I also served as the Leader for the 5th Grade Math Professional Learning Community from 2011-2015. Currently, I am serving as the Bulldog's House Leader's Assistant.

The following details some more information about myself.

Certifications
Principal's Certification
New Jersey Elementary Education P-3 and K-5 Teacher Certification
Awards
2011-2012 William C. McGinnis Middle School Teacher of the Year Award
Capella University's President's List 2011-2015
Community Activist Award, presented by E.E.O. at Kean University, 2005
Academic Achievement Award, presented by E.E.O. at Kean University, 2005
The Tenacity Award, presented by E.O.F. at Middlesex County College, 2002
Memberships and Associations
Epsilon Epsilon Omega Honor Society, member since 2005
Diversity District Committee Member: (2008-Present)
School Leadership Committee Member: (2009-Present)
4th-5th Grade Alignment Committee Member: (2010-Present)
The Association of Mathematics Teachers of New Jersey Member: (2009-Present)
American Federation of Teachers Member: (2005-Present)
Capella University Alumni Association
Kean University Alumni Association
Middlesex County College Alumni Association
Languages Fluent in reading, writing and speaking Spanish
I believe in fostering strong positive relationships with the local community and school communities. I am also a firm believer of establishing ambitious academic goals for all my students. In establishing these goals, I look beyond traditional expectations and I work vigorously at assisting my students to achieve their goals. Given the many unique obstacles my students may face, I try my best to provide resources that will ensure that my students fulfill their true potential. Helping my students improve performance over time through a constant process of self-evaluation and learning is one of my many goals. It is important for me that my students walk away knowing that as part of their team I have shared their vision of academic achievement and that together we have worked towards meeting the goals set.
Sincerely,
Mrs. Alvarez